What is a shirt holder?
A shirt holder is a belt-like strap that attaches to your shirt and sits near your waist line, under your pants so that it isn't visible to anyone else. The purpose it to keep your shirt in your pants at all times.
Who is this product for?
Tuckd's shirt holder is primarily made for people that wear button-up shirts on a regular basis. However, this doesn't mean that it can't be used for other purposes. The shirt holder can act as a belt to keep any kind of shirt tucked in your pants. The product itself is not specific to any genders and body types. It is made to suit everyone.
How does it work?

The product holds your shirt in place by attaching to the last button on your shirt (warps around your waist if you don't have a button up). This keeps the shirt in place and prevents it from coming out of your pants.
- For instructions on how to use the product, click the instructions tab located above -
Why should I buy a shirt holder when I use a belt?
A belt is made to hold up your pants. Unfortunately, that doesn't stop your shirt from coming out of your pants and getting untucked and/or creating a muffin top.
If you want to keep your shirt in at all times no matter what movements you do, then purchase a shirt holder. It keeps you looking clean and professional at all times.
The belt is quite easy to use which is made possible by its simplistic design. If you are having trouble figuring out how to use it, refer to the image below for detailed instructions.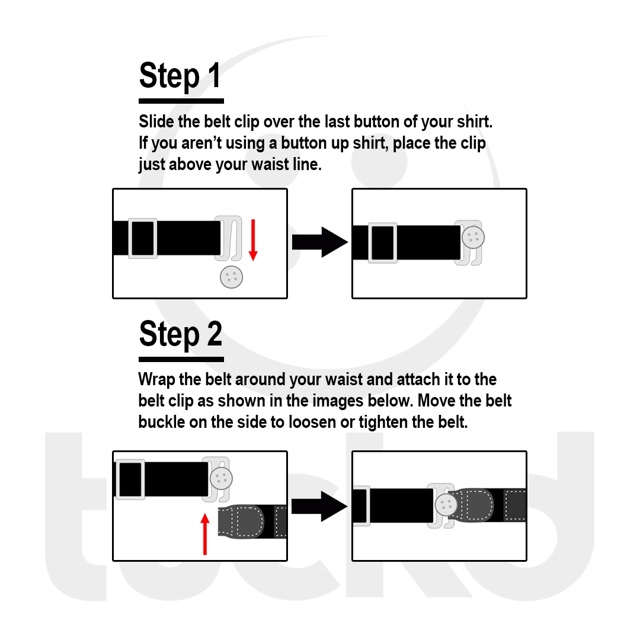 If you have any further questions regarding the product, please feel free to contact us via email at contact@tuckd.shop